About Us
Opened by a pair of free spirits, Suanne and Richard, Blue Heaven has become its own well-known destination in Key West. The chickens and cats roaming the premises are almost as famous as the food. Blue Heaven is al fresco dining, Key West style: canopies of tropical foliage, improvised art (a leopard-spotted mannequin, a rooster graveyard, jolly-colored coconuts and trap floats) and a sail strung between trees providing shade. But don't let the whimsical décor mislead you: the food is taken seriously. One taste of the blueberry pancakes, carrot and curry soup, miso-marinated eggplant salad, or scallops provençale and you'll have no doubt ingredients and the gentle time it takes to prepare fine food are the priorities. the menu barely changes (not even the specials, except to offer seasonal stone crab claws), which means that caribbean shrimp deglazed with red stripe, jamaican jerk chicken or pan-sautéed yellowtail with citrus beurre blanc will be there for you next time, too — even if the reserve selections on the notable wine list may change. heavenly indeed, and home of quite possibly the best key lime pie the island offers, with its mountains of baked meringue topping. (review courtesy of www.guyoh.com)
Located in historic Bahama Village, Blue Heaven, one of the most casual of key west restaurants features indoor & outdoor dining, live entertainment and american, caribbean and vegetarian cuisine.
Our Story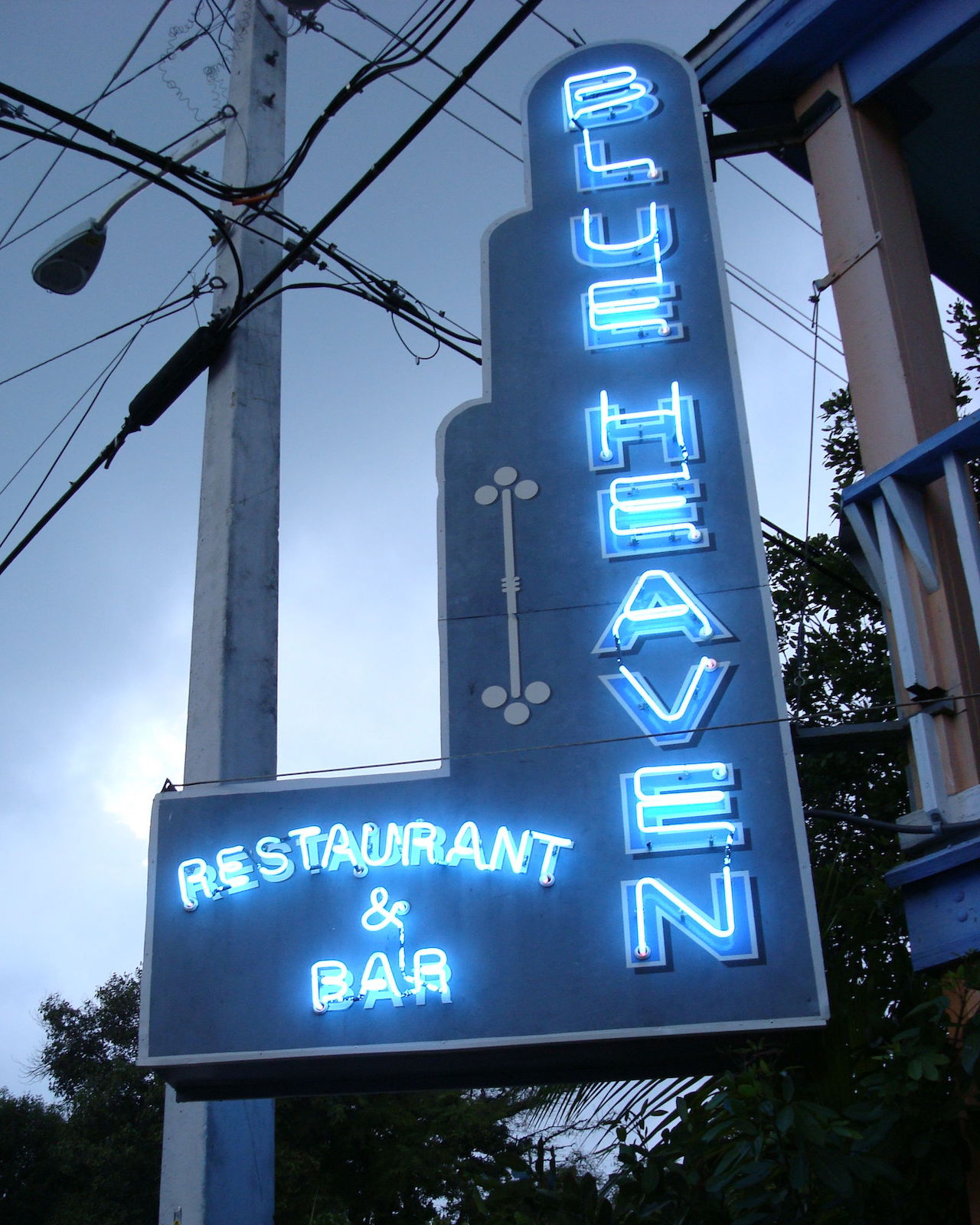 An ancient range, a stainless steel sink and a century-old history of entertaining the islanders sat inside the shuttered blue building on Petronia Street in the heart of old Key West, in the Florida Keys.
On September 19, 1992 Suanne the artist and Richard the writer cooked and served black beans, rice, and fish to their first lunch customers on the painted picnic tables under the tropical almond tree in our fine outdoor dining area.
One hundred years earlier, the owners of the Dade County Pine structure sold spirits to Key West and Florida Keys residents. Through the years the property has hosted cock fighting, gambling and Friday night boxing matches refereed by Ernest Hemingway.
The outdoor courtyard is paved with the slate pool table tops from the days the downstairs operated as a billiard hall and ice cream parlour.
A dance hall, a bordello and a playhouse have occupied the second floor. Today inside the Bordello Gallery above the restaurant, one can still peek through the sliding peep holes into the tiny rooms.
The current business saga began with no money down, some gardening tools and Mom's church cookbook. Seas permitting, Suanne, Richard and baby motored in daily to their Key West restaurant from their houseboat home on the farside of Christmas Tree Island. The duo slowly built up their lunch counter business. With the addition of breakfast and a $2 special they eventually hit the $100 gross sales a day plateau, sometimes. Rain played havoc with their dinghy and the outdoor business.
One and a half years later Richard lured his brother Dan down from his chef's position at the Carolina Inn in Chapel Hill, N.C. A formally educated chef, who started in the restaurant business at age 14, Dan wasted no time taking over dinner at the Key West restaurants. The fish plate turned into Black Grouper seared with dried herbs and served with a key lime honey glaze and a warm cucumber and red onion salad. Chef Dan's food always tasted great. Most of the numerous former kitchen employees would readily attest to Dan's exacting care for food. The specialties are Caribbean cuisine, sea food and vegetarian dishes.
Journalist Charles Kuralt said Dan's scallop sauce "would make cardboard taste good."  Accolades have come in from around the world for this most unique of Key West restaurants.
Enjoy the food and ambiance and keep an eye out for falling almonds, Spanish limes, coconuts, and roosters. Finally, no swinging from the water tower on the rope swing!!!
Meet Chef David Dorsty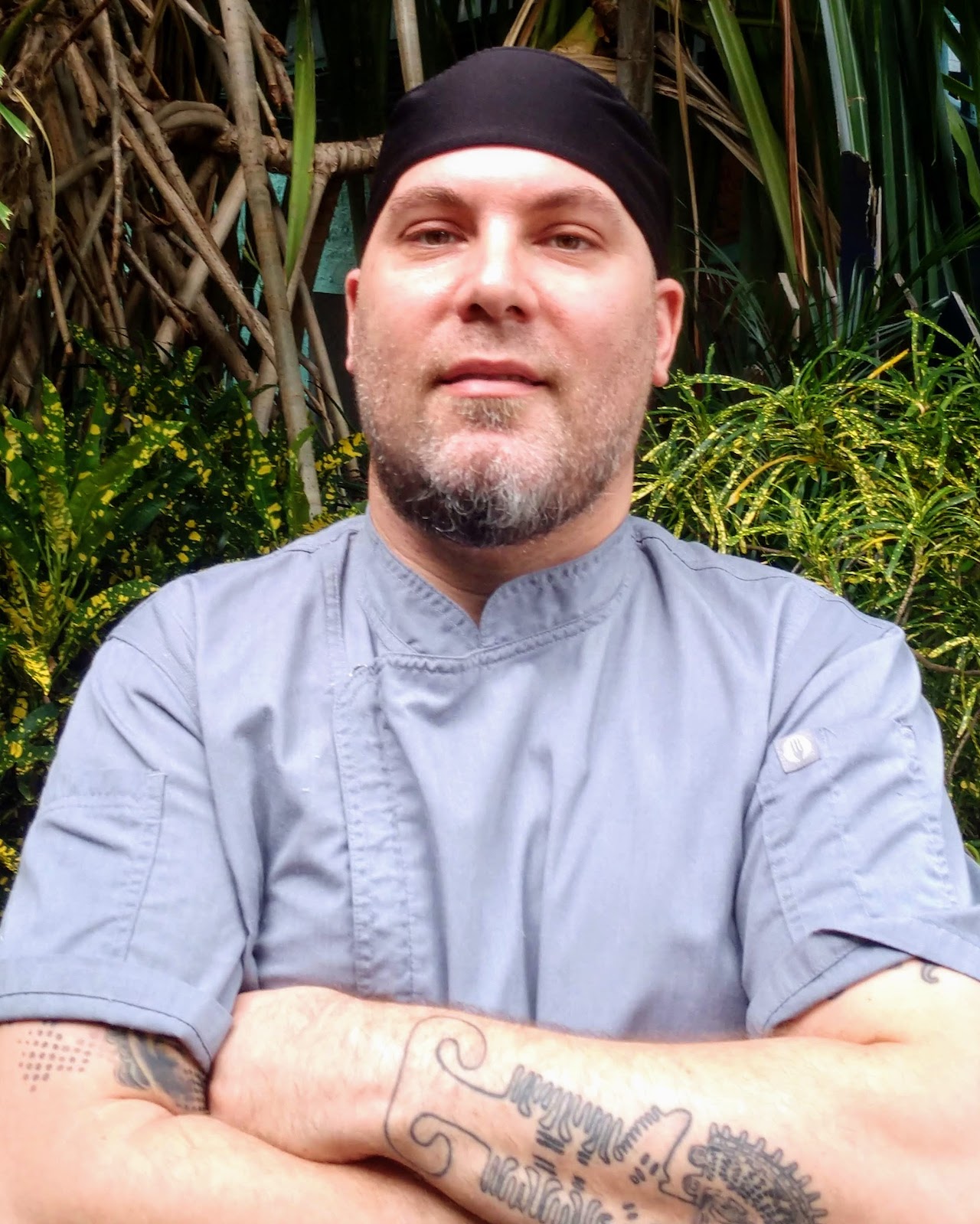 Head Chef David is from Long Island, New York, but has spent most of his life living in the Florida Keys. In his younger, formative years, he worked as a Chef at all the major resorts in the area. Then David found himself at Blue Heaven, where he dedicated 4 years as a Sous Chef. In 2012, he took a hiatus to the Catskill/Finger Lakes area of New York to work "farm to table" first at the North Branch Inn, then briefly at Cornell University and finally at a local farm driven gastro pub. Now, as the Head Chef of Blue Heaven, David continues to pursue his love for locally driven food, adding his personal touch to Blue Heaven's already delicious menu. His style of cooking can be described as "clean and highly developed flavors with an emphasis on fermentation, spice and authenticity." Chef David says, "I enjoy working with seasonal ingredients and telling a story of where we are in this moment. Good food brings people together and teaches us to understand different cultures."
Where We Are
Only 2 blocks from Duval on the corner of Petronia & Thomas Streets